I don't know what's gotten into me lately, but I seem to be on a fanmix kick. This one is a wee bit different, though.

One of my favorite fanfics is a modern adaptation of Pride & Prejudice called An Unexpected Song. Basically, Darcy is a concert pianist and Elizabeth is a music teacher. I won't get into the details, you'll just have to go read it yourself. ;) The author, Rika, includes lots of music throughout the story, and some of those songs are included in this fanmix (although most are of my own choosing).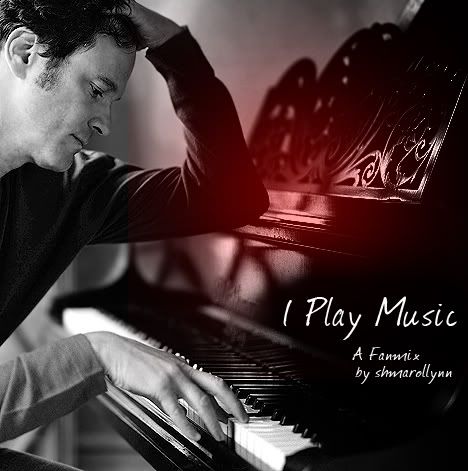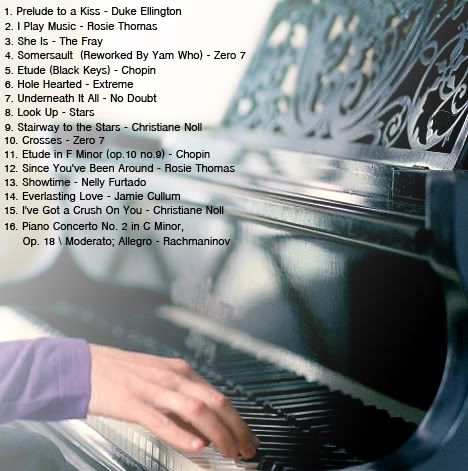 Prelude to a Kiss // Duke Ellington
I Play Music // Rosie Thomas
And when you love me, you love me well
When I'm with you I lose myself
There's nothing more I would rather do
Than spend the rest of my life loving you
She Is // The Fray
It's all up in the air and we stand still to see what comes down
I don't know where it is, I don't know when, but I want you around
Somersault (Reworked By Yam Who) // Zero 7
You're the warmth in my summer breeze
You're the ivory to my ebony keys
You would share your last jelly bean
You would somersault in sand with me
Etude (Black Keys) // Chopin
Hole Hearted // Extreme
There's a hole in my heart
That can only be filled by you
And this hole in my heart
Can't be filled with the things I do
Underneath It All // No Doubt
There's times where I want something more
Someone more like me
There's times when this dress rehearsal
Seems incomplete
Look Up // Stars
You're cold, maybe you just missed the sun
You fall, feeling like it's just begun
So far, keeping it together's been enough
Look up, rain is falling, looks like love
Stairway to the Stars // Christiane Noll
We'll build a stairway to the stars,
A lovely stairway to the stars.
It would be heaven to climb to heaven with you.
Crosses // Zero 7
Don't you know that I'll be around to guide you
Through your weakest moments to leave them behind you
Returning nightmares only shadows
We'll cast some light and you'll be alright
Etude in F minor (op.10 no.9) // Chopin
Since You've Been Around // Rosie Thomas
I'm winning
I'm losing
I'm afraid of never choosing this heart of mine, so beaten down
Before you came around
Showtime // Nelly Furtado
Let's break a leg out there
This could be the start of the rest of our lives
I've got so much to share
And I'm ready to put it all out there for you
Everlasting Love // Jamie Cullum
Open up your eyes
Then you'll realise
Here I stand with my
Everlasting love
I've Got a Crush On You // Christiane Noll
I've got a crush on you, sweetie pie.
All the day and nighttime, hear me sigh.
I never had the least notion that I could fall with so much emotion.
Piano Concerto No. 2 in C Minor, Op. 18 \ Moderato; Allegro // Rachmaninov
Zip - MegaUpload
Zip - SendSpace