The Outlander series by Diana Gabaldon has rapidly taken over my life. So naturally, I had to make a fanmix. This has been sitting in my iTunes for quite a while and I'm proud to say that I finally got my act together, converted everything to mp3 and zipped it all up.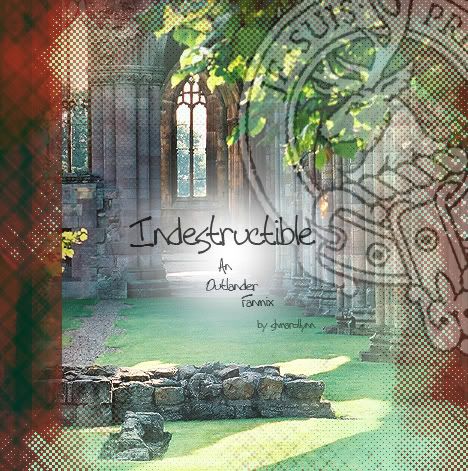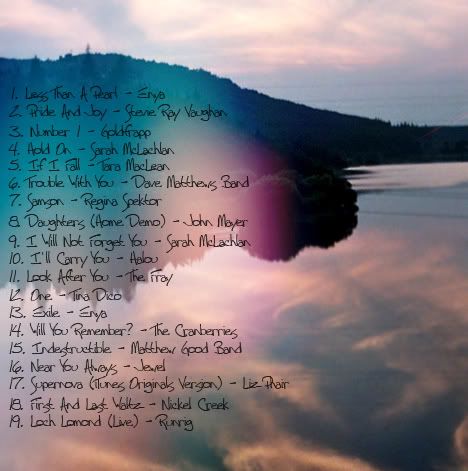 Less Than A Pearl // Enya
Our words drift away
Our words journey to find those who will listen
We call out into the distance...
Pride And Joy (Unplugged) // Stevie Ray Vaughan
Well I love my baby, like the finest wine
Stick with her until the end of time
She's my sweet little thing, she's my pride and joy
Number 1 // Goldfrapp
Walk out into velvet
Nothing more to say
You're my favourite moment
You're my Saturday
Hold On // Sarah McLachlan
Oh God if you're out there won't you hear me
I know that we've never talked before
Oh God the man I love is leaving
Won't you take him when he comes to your door
If I Fall // Tara MacLean
It seems so easy now
Everything I dreamed about when I was a child
It looks like a good place here
So I think I'll stay for awhile
Trouble With You // Dave Matthews Band
Trouble with you is you always wanna find the fire
Sittin' warmin' your hands by the fireside
Trouble with you is you're always lookin way outside (way outside)
Oh why not enjoy yourself by the fireside?
Samson // Regina Spektor
You are my sweetest downfall
I loved you first, I loved you first
Beneath the stars came fallin' on our heads
But they're just old light, they're just old light
Daughters (Home Demo) // John Mayer
Fathers, be good to your daughters
Daughters will love like you do
Girls become lovers who turn into mothers
So mothers, be good to your daughters too
I Will Not Forget You // Sarah McLachlan
So I ran like the wind to the water
'Please don't leave me again' I cried
And I threw bitter tears at the ocean
But all that came back was the tide...
I'll Carry You // Halou
How does it feel to know that you
Mean everything to someone
How does it feel to know that
You're exactly what I wanted
Look After You // The Fray
There now, steady love
So few come and don't go
Will you won't you
Be the one I always know
One // Tina Dico
And when you're running for cover
And you feel the sky falling down upon you
And when it feels like forever
Since you've seen the face of someone who loves you
Exile // Enya
I'll wait the signs to come
I'll find a way
I will wait the time to come
I'll find a way home
Will You Remember? // The Cranberries
Will you remember the flowers in my hand?
Will you remember my hair?
Will you remember the future we planned?
The world is not waiting out there.
Indestructible // Matthew Good Band
I came back for you
The perfect version of myself
Tomorrow we start again
Tomorrow came and went
Near You Always // Jewel
Please don't bring me flowers
They only whisper the sweet things you'd say
Don't try to understand me
Your hands already know too much anyway
It just makes me want to make you near me always
Supernova (iTunes Originals Version) // Liz Phair
You walk in clouds of glitter
And the sun reflects your eyes
And everytime the wind blows
I can smell you in the sky
First And Last Waltz // Nickel Creek
Loch Lomond (Live) // Runrig
O ye'll take the high road and I'll take the low road,
And I'll be in Scotland afore ye.
Where me and my true love will never meet again,
On the bonnie, bonnie banks of Loch Lomond.
Zip - MegaUpload